Hi there, I am Scarlett, aged 25 years. When you visit me you can see straight away what sort of girl I am. It is clear from my photos, my videos, or my nasty shows. I really can't hide how sexual a person I am. It's impossible for someone as horny and hungry as me to be any other way.
My body was made for sex. Look at my firm round ass as it points toward your thickening penis. Then see my firm hard boobs as my thick, suckable nipples stand to attention. Observe closely how quickly my pussy gets wet and ready for fucking.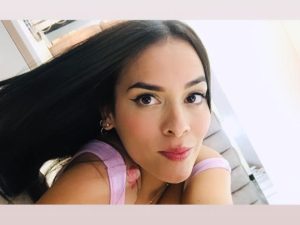 My hot and sexy curves were all naturally designed to give pleasure to me and to the guy or girl that fucks me.
When I am aroused, you will see a lot of my ass on display. I can't resist exposing both my holes to men who want to see what I have to offer. Wiggling and shaking my ass is one of the sex shows that I do best, and I always give every twerk my all. Usually, I prefer to twerk without panties too. In doggy style, my whole ass is there for you. Sometimes it is gaped wide open on sex cams, and other times I prefer to fill it with a butt plug or a dildo. If I'm a really lucky girl, then a hard penis can slide up there too. The juices from my soaking pussy can always come in hand for lubricant.
Don't think that I am only interested in pleasuring my ass though. My pussy needs a lot of attention too, and she gets it whether I am here on live sex cams or just masturbating at home in bed. Every day I love to put things inside her. Fingers, toys, brushes are all welcome. Anything that looks and feels right usually ends up there. My hungry pussy demands it.
I am a girl who likes to try lots of different things – and different things not just in my fuck holes. No two days are the same and no two looks are the same for me either. As a cam girl, I have been blonde and dark-haired. I've also added a nose piercing that lots of guys think looks sexy. My costumes change often too. Sometimes I have taken costume suggestions from people who visit me here and if there is anything you want to see me in – or out of – then let me know.
I am always at my horny best when guys tell me what they want. I am an open-minded cam sex girl who is always interested in exploring new experiences. Your tastes and kinks are what keep me hot and horny. Tell me what you need and want, and let's explore the world of online fucking. So don't be shy and don't hold back. Let me be the one who fulfils your desires and fantasies.